PERFECTIONS® is a premium automotive window film developed by a company which is experienced more than 10 years in window film. Empowered by high technology from USA: Nano Metal Oxide Material, Multilayers, Sputtered Technology, and Ceramic Material usage, PERFECTIONS® offers you comfort, safety, and the ultimate protection against UV-rays.
OUR PRODUCT PROFILE
#1 THE SOLAR SPECTRUM
The solar energy is built upon three distinct parts: Ultra Violet Radiation, Visible Radiation and Near-Infrared. Spectrum wavelengths characterize these 3 types of radiation (energy) different from each other.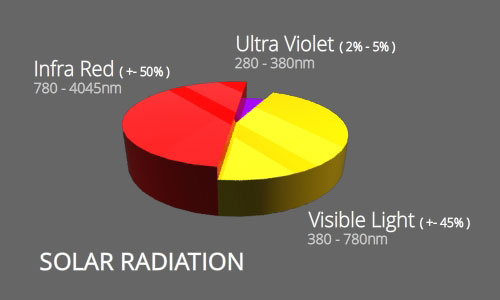 Ultra Violet Radiation has the shortest wavelengths, ranged from 280 nm to about 380 nm, which is invisible to the human's eye. The next one is Visible Light Radiations, that wavelengths are ranged from 380 nm to 780 nm. Infra Red Radiation (also known as invisible solar heat) has the longest wavelengths, ranged from 780 nm to 4045 nm.
#2 INNOVATIVE HEAT CONTROL
With Multi-Layer and Sputter Metallizing Technology
To achieve these superb-efficient properties, PERFECTIONS® utilize Advanced Inovative technology to disperse heat.
Multi-Layers Process construction
Using only the finest raw materials and Advanced Technology.
Consist of Super High Heat Rejection Alloy Heavy Metals.
Varying degrees of solar energy rejection performance.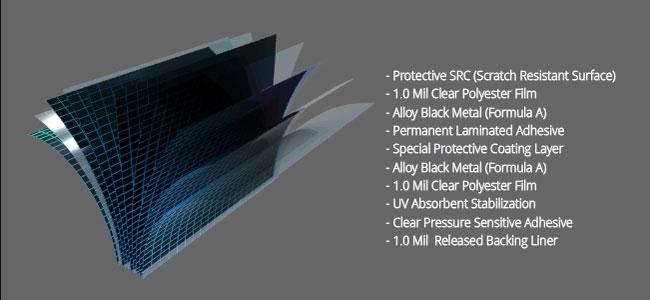 Safety Plus Value - Added to the Vehicles Commercial and Residental Flat Glass: An increased measure of safety by Double Ply Polyster Film with multilayers process construction.

Protection: Helps hold glass together. It will reduce your exposure to flying kernels of tempered glass, in event of an accident or when the glass is hit by flying rock or object.
#3 SPUTTER METALIZING
Sputter metallizing has brought space age technology to the solar control market. This advanced method of coating uses exotic metals which cannot be evaporative coated. In the sputtering process, an electrically transformed gas (usually argon) bombards the metal and knocks molecules loose. These molecules are deposited into the film and layered side by side providing extremely thin, tight, and optically precise coatings. The coating is so tight that the water used during installation of the window films cannot evaporate and this giving the "hazy" look during the curing period. This "hazy" look will gradually dissipate and give way to a beautiful film. High light transmission, very low visible reflectivity, and impressive solar heat control are the trademarks of sputter films.
#4 INFRA RED HEAT
More than half of the sun's heat is generating invisible radiation known as Infra Red. PERFECTIONS® window film uses sputtered technology with multi-layers so that it is able to reject Infra Red heat until 97%.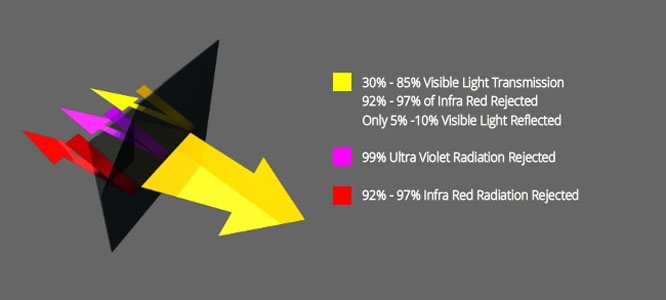 #5 FADING
The shorter the wavelenght of solar radiation, the greater the fading damage potential. Therefore, Ultra Violet Radiation is the most damaging, followed by the shorter wavelengh Visible Light Radiation.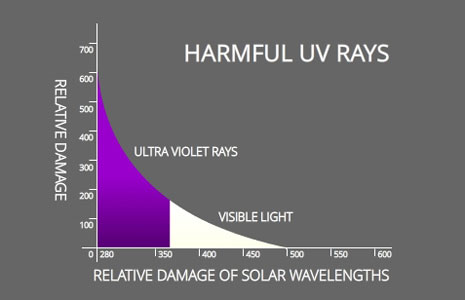 Visible Light at wavelengths above 600 nm as well as near-Infra Red Radiation seems to cause very little fading. Although Ultra-Violet Radiation makes up only 5% of the sun's rays, it is the major cause of fading and deterioration of valuable and expensive interior furnishing.
#6 FADING CAUSES
PERFECTIONS® window film is able to reject 99% of UV Rays radiation, offer maximum protection from fading.